International Baccalaureate
A full programme from 3 to 18 years old
CIT is a school that has been part of the International Baccalaureate organisation since 2011. We are the only school offering the IB continuum (Primary, Secondary and Baccalaureate) in the province of Malaga. We strongly believe in an international education at an academic, professional and personal level, an education that allows students to achieve their goals anywhere in the world – in Spain and abroad.
Being international means being, above all, good people who are able to welcome others and make the most of any situation they face on a daily basis. Therefore, we consider that being international is also being brave, being open-minded, knowing how to take risks, knowing yourself, knowing how to listen to and respect others, knowing how to express your ideas and feelings in front of different audiences, but it is also knowing how to live in your local setting, with an eye on the world and what is going on around you, always trying to improve and help.
International is first of all a mindset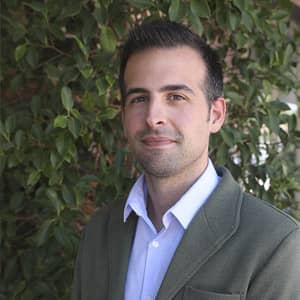 Guillermo Chaves _ International Baccalaureate Diploma Programme Coordinator
The profile of the Learning Community
The fundamental aim of the International Baccalaureate Organization (IBO) programmes is to develop internationally-minded individuals; caring, informed and knowledgeable young people who can contribute to creating a better and more peaceful world, within a framework of mutual understanding and intercultural respect.
These programmes encourage students from all over the world to adopt an active attitude of lifelong learning, to be compassionate and to understand that other people, with their differences, can also be right.
As members of the IB learning community, we strive to be:
Inquirers, Informed and enlightened, Thinkers, Good communicators, United Open-minded, Supportive, Bold, Balanced, Reflective
It is essential that students develop inquiry, cooperation, dialogue, reasoning, critical thinking skills necessary for learning.
A conceptual approach to inquiry is a powerful tool for achieving learning that values concepts and promotes the construction of meaning and understanding.
It stimulates learners to handle meaningful ideas critically and creatively, and therefore develop deep knowledge.
Students learn best when their learning experiences have context and are related to their lives and their experience of the world they know.
The International Baccalaureate Programme aims to develop students who achieve excellent breadth and depth of knowledge while growing physically, intellectually, emotionally and ethically. One of the strengths of all IB programmes is that they encourage students to become independent learners.
It emphasises international perspectives and fosters the development of skills and attributes that prepare students for university and for life in an ever-changing world.
Engaged and internationally-minded young people
Students with complex and meaningful knowledge that promotes critical thinking, research and intercultural understanding
Students with an internationally recognised quality education
People capable of pursuing their dreams and choosing their goals wisely
People with a well-rounded education and the will to continue learning throughout their lives.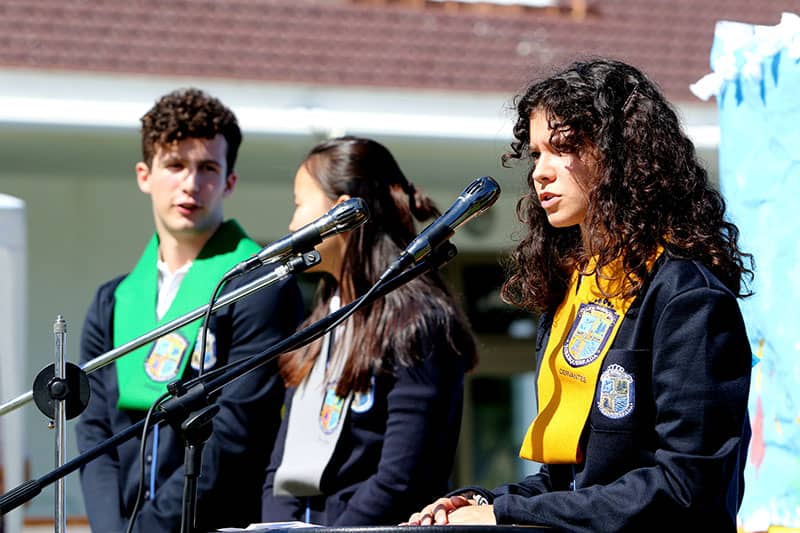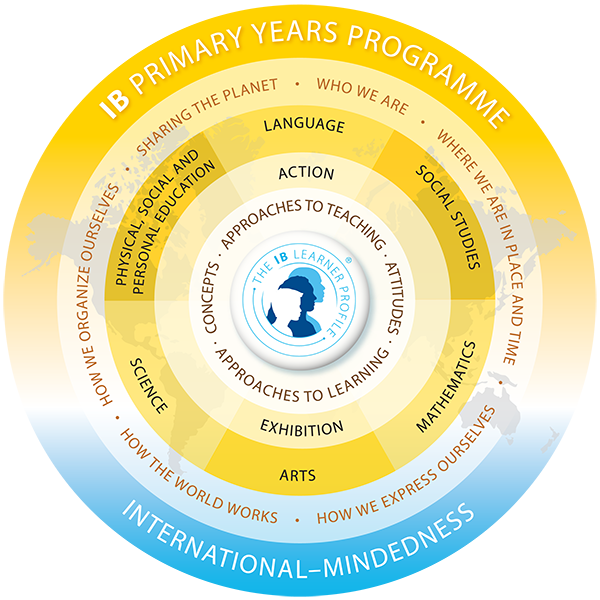 The IB Primary Years Programme (PYP), aimed at students aged 3-12, offers a transdisciplinary, inquiry-based curriculum framework.
Guided by six transdisciplinary themes of global significance (which in practice become six Units of Inquiry in each year group), students extend their learning by developing their conceptual understanding, enabling them to strengthen their knowledge and skills across, between and beyond subject areas.
By learning through inquiry and reflecting on their learning, students develop the ability to express their opinions, make choices and take responsibility for their own learning.
Through the PYP they develop the knowledge, conceptual understanding, skills and attributes of the IB learning community profile necessary to make a difference in their own lives, in their communities and in the rest of the world.
By actively participating in continuous, integrated assessment, students begin to regulate their own learning effectively and are able to act on constructive feedback.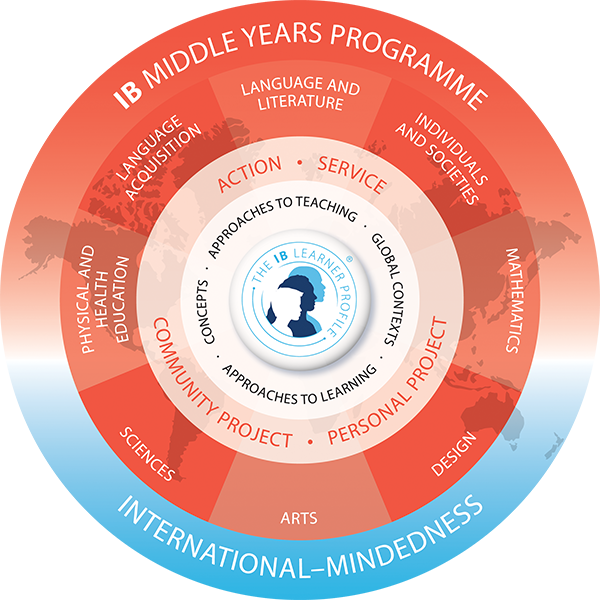 The International Baccalaureate® (IB) Middle Years Programme (MYP) is a programme for students aged 11-16.
The MYP aims to develop young people who take an active role in their learning and are internationally-minded, while being able to empathise with others and give their lives purpose and meaning.
The MYP comprises eight subject groups: Language Acquisition, Language and Literature, Individuals and Societies, Science, Mathematics, Arts, Physical and Health Education, Design.
In addition, each year, MYP students must participate in at least one interdisciplinary unit and also complete a long-term Personal Project in which they decide what they want to learn.
The programme provides students with the tools to explore a wide range of issues and ideas of local, national and global importance. As a result, young people become creative, critical and reflective thinkers.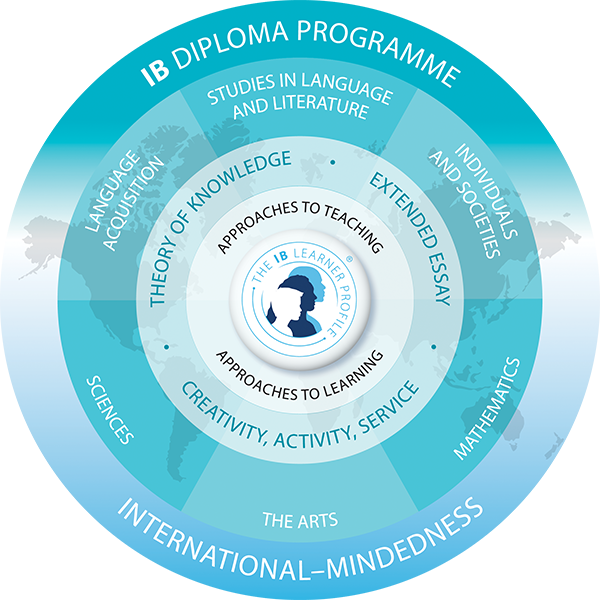 The Diploma Programme (DP) of the International Baccalaureate® (IB) is an educational programme with its own assessment system for students aged 16-19.
The DP curriculum consists of six subject groups: Language and Literature Studies, Language Acquisition, Individuals and Societies, Science, Mathematics, Arts (*Each subject group comprises different courses) and the Core Components: Theory of Knowledge; Creativity, Activity and Service; and the Extended Essay.
Through these Core Components, students reflect on the nature of knowledge, carry out independent research and complete a project, often involving community service activities.
The International Baccalaureate® (IB) assesses students' work as direct evidence of their level of achievement against the objectives set for Diploma Programme (DP) courses.
The programme aims to develop students who achieve excellent breadth and depth of knowledge while growing physically, intellectually, emotionally and ethically.
Colegio Internacional Torrequebrada is an applicant school* for the Career Guidance Programme and wishes to become an IB World School.
IB World Schools share a common philosophy: a commitment to a rigorous, quality international education
that we believe is important for our students.
*Only schools authorized by the IB Organization may offer any of its four academic programmes: the IB Primary School Programme, the Middle Years Programme, the Diploma Programme and the Career Programme. The category of applicant school does not guarantee that the school will be authorised.